Welcome to the Battle of the Biscuits

This knockout challenge will find our favourite all time biscuit. I hope your favourites are included in the last 16 draw (17 actually), but if Dad has missed a huge favourite then let him know.
Dunk 'em, crunch 'em, love 'em… which is your favourite??
The first four ties in this round are…
Plain Digestive vs Chocolate Digestive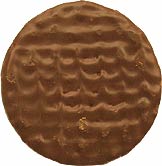 Club vs Penguin
Rich Tea vs Nice vs Shortbread
(3 way battle)
Ginger Nut vs Choc Chip Cookie
Get voting